Starting a Thrift Store- Tips & Advice
Opening a store sounds like you need tons of money. You kind of do and kind of don't depending on how creative you can be. I'm going to tell you about my experience opening a thrift store (collective hybrid store) with next to nothing and how I worked my way up.
In this blog-
Sourcing Inventory

Finding Locations to Sell

How to Fund It

Fight For It

License Info

Charging & Taxes

Create Buzz

Pivot Your Focus
Sourcing Inventory
The moment you start even daydreaming about a store, the first thing you will want to do is begin hoarding stock. I have an attic space I turned into a walk-in closet for storing and went picking weekly through the outlet bins, Goodwill's, Value Village, and my personal closet for inventory. You can also ask friends to donate their unwanted clothes to your store...maybe offer them a percentage off a purchase or two as a thank you. Once you start feeling like you've got enough to fill some racks, order some portable clothing racks off Amazon to start filling up with your goods. I started doing this over a year before I found a spot to move into.
If you want to sell items made by other people some might be willing to consign which means you don't have to buy the inventory upfront, you just take a percentage of the sale in your store. Those costs vary and are up to you on what you want to charge. When you get your business license (for me about $100) you should also get a wholesaler's license (my state automatically did it) so you can ask businesses for their wholesale costs which can be half of the market value. I was able to get a lot of the soaps and makeup I sell in my store for half the cost. You can then sell at market by doubling the wholesale price (some even do more). So example: say you buy a product at $5 per item. You can tag it in-store for $10 or even more depending on what you feel its value is in your market. That's to help cover the overhead you now have with rent and maintaining inventory, paying yourself for working, and a little left over to hopefully buy more to sell again and so the wheel turns.
Finding A Location
Some people start off by working flea markets. Where I live (outside of Seattle) there are flea market events every weekend both indoors and out. You can Google it in your area or start looking up hashtags on Instagram. You can even ask a local thrift store because they're likely tuned into the scene considering a lot of them go there to source more inventory too.
If you don't want to rent market booths, pop-ups are another way to test out selling options. Some stores like to offer part of their space on weekends to let crafters & vintage resellers set up a table or racks temporarily. This benefits them in two ways- one, it helps kick some income toward their own business overhead, and two- most of the time they also have a social media network so both can spread the word and expand their exposure to a new market of people. Smart.
If you don't want to share your environment, you can search your city for spaces that can be rented for micro-businesses (this is what I did). The best way to locate them is by walking the parts of town you love where you live that have thrift, retail, or antique malls and ask if spaces are available. Where I live in Washington, we have a three-story Antique Mall where the owner had built small separate spaces back in the 80's. When I first saw these right after lockdown regulations were lifted, the entire floor was mostly empty aside from one or two small stores. Now the entire place is full and alive with retailers, some doing the same hybrid store style as I am. I started out in a small space and have moved just a few spaces down into a larger spot. I have my thrifty retails side with local bath & beauty and the other is my beauty studio (makeup and PMU services).
Hybrid stores are when you combine what you offer of various services or goods, for example, mine is retail and beauty services. Collectives are when multiple people are renting space for their profession or skills, for example, a hair salon mixed with a tattoo studio. It appears more and more these days, people are combining the things they love into one business.
How to Fund It
Ok so now you found a place in your budget that rents space to your specifications. What now? The money part is tricky because I can't tell you how to allocate funds directly. I had to pull from a lot of resources but to give you an idea- I put my stimulus checks toward building the business i.e. taking classes, buying a website, and licenses needed to operate in permanent cosmetics as well as operating in my county etc. I took out small loans to help fund equipment, shelves, and fixtures. I also was lucky enough to have a close friend and a few family members who offered to buy equipment (like tattoo supplies, massage tables, etc.). I saved up for deposits on the actual space itself. I started a dog-sitting side hustle, reached out to brands for paid video content, picked up gigs doing content for social media, and did makeup for weddings and events.
Starting small in these micro-business structures gives you a taste to see if entrepreneurship is for you. Be prepared, you will have days when you think about giving up, I definitely have. It will take all of your spare time and energy but can be worth it when you go to work and see patrons shopping at your store. Even better if it breaks even that month, maybe even a little extra to spare.
You can also access grants however, I've had no luck with it, the competition is fierce and it takes a lot of time to apply. It also doesn't seem to apply to the industry I'm in most of the time but if this changes, I will be sure to update here.
Fight For It
If you have to juggle multiple things you've got to be willing to put in the effort, it's a constant grind.
You can give yourself a goal to do one year in your space... and it's make or break. I'm right there, finding if I have the time between pursuing a micro-blading career and maintaining my makeup business which is usually me driving up to Seattle to photoshoots or weddings. I also run a part-time dog hotel which helps me have my own schedule and even do all of this, to begin with. On any given day, I'm answering emails about Youtube collaborations, filling online orders, and cleaning up potty accidents then getting ready to race out the door to work a shift at the store. The next day I'm driving into the city to do makeup for a photoshoot. It honestly wasn't until I quit drinking that I realized I actually enjoy the hustle which I know people have conflicted opinions about. Yes, I don't believe we need to risk our personal well-being to be successful, but in this case, it's all to invest in yourself and your very own storefront, so it's going to take blood, sweat, and lots of tears. I won't sugarcoat it.
The largest lesson I've learned is once you begin, you have to be prepared to do it all.
When you own a business (even a small one) your new titles are:
Executive/Owner
Operations & Inventory Manager
Marketing
Tech Support
Business Analyst
Sales Rep
Administration Assistant
Janitor
Bookkeeper
Social Media Manager
Accountant
It truly makes you appreciate small businesses and how hard they work. That's not to scare you- it probably would scare me a bit to hear all of that but you learn these as you go- no need to try to do it all at once. You can make it your goal to tackle each thing each week until you have all your bases covered. Get a business planner book. Write EVERYTHING down you need to remember and open it every morning as a ritual to check what needs to be done that day. I've made a habit of waking up, having my morning coffee, and opening up the planner. I would lose my head if I didn't have that thing. I run about four separate side businesses so staying organized is key to not missing something important.
License Info
As far as knowing what license you need- Google "business license" and your state. It should have a guide to walk you through what you will need to operate legally. There's also the SBA.gov website for the small business association that has useful resources. Non-profits also offer free workshops to get you started. I worked for one for a while called Urban Business Support and they offer courses online that walk you through getting going and are instructed by a fella that works in the banking industry. They help minority business owners and start-ups in gentrified neighborhoods but allow anyone who needs their help to join their classes.
Update: I received a notice about licensing from my city unaware I also need a license to do business within my local prosper as well, so be sure to check locally too. If your sales are minimal to start, it shouldn't be a very costly fee (it looks like maybe about $25-$50)
Ways To Charge People for Goods
If you want to go the cash register route by all means go for it. I personally don't want to deal with cash unless someone has exact change. Otherwise, it's all through Square. They offer free chip readers you can order off their website and ship to you. I use a little inexpensive tablet I got off Amazon and have a backup reader for my phone in case I'm on the go. It's set up to take payments and tips for services as well as keeps track of any taxes collected for when those are due all through an app. I don't know about your state but ours notifies us with instructions on when taxes are due when you get your business license and offer courses on how to do it. I do know some other shop owners use Venmo which is a cheap option to get started.
Create Buzz
Getting the business going will be a learning process day by day and I still have a long way to go, but one thing I can say for sure, you will likely have to spam it everywhere announcing that you have a new business. Like, a lot. Continue to post on social media (LIKE A LOT). Update pics with new inventory and link them so people can buy online if that's an option. Nobody will question that you've started and business and think of you when wanting to support local or in need of something you have.


If you're unable to work every day, post when you will be there on Instagram, it helps people know to stop by. I'm not the best at this because I can get called to another gig last minute but I do try to keep people updated about my hours as much as I can. I think people also enjoy watching the process of getting things going. Show the before and after pics. Progress and changes you're making. It will connect your followers with the journey.
Be sure people don't forget about you.
Pivot Your Focus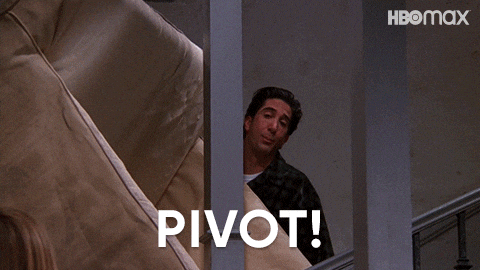 I've never referenced the episode of Friends where Ross says "PIVOTTT" more than since I opened the beautique. I think I got the term from a Business Coaching podcast where they said something like, "When you find obstacles don't quit, it's just a sign you have to pivot your focus. You will find yourself doing this a lot." It's been really helpful for me. It taught me to not give up easily when I've already had some significant hiccups. Instead, I saw them as challenges to change my direction just a bit. I have had to consider a lot of various scenarios in case shit happens and have a backup plan for my backup plan. There will be many obstacles but one thing you have to do is remember why you started. If this is your dream just give it your best. If I had to ever close up shop due to whatever circumstance, at least I will know I gave it my all.
So I will say that to you too, if this is your dream, give it everything you've got.
I believe in your success if you truly want it.
Good luck, and don't f*ck it up. Wait, that's RuPaul's tagline...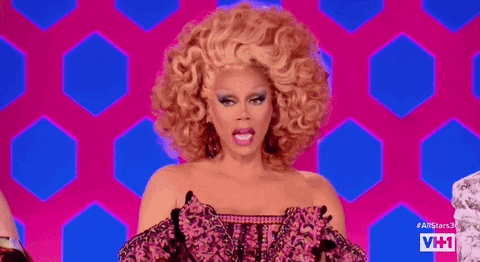 Good luck, and get out there n' giv'er. There, that's mine.
-Seanna